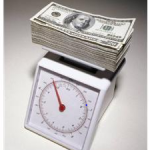 In a purely economic sense, the value of any for-profit business is the present value of its cash flows.  A lot more goes into the valuation of a business and there are exceptions where businesses are valued based on metrics that most ordinary Americans could never understand (just think back to the internet bubble).  Factors such as reputation, patents, brand, organizational health and new product pipelines are all considered when valuing a company, but all of these elements are only measured because of their expected effect on the future cash flows of the business.
So, how do you increase the value of your enterprise?
Let's start from the end and work our way back.  To increase the value of your organization you need to increase the cash flows that a reasonable buyer can expect from your company in the future.  What drives cash flows?  To start, sales (and collections) are the beginning of all cash flows.  I know this is beginning to sound very elementary, but stick with me for a minute
What drives sales?  Purchases from new and current customers drive sales.  What prompts them to buy?  Lots of things like your price, brand, your people, your product, your customer service and even your company's values can affect a customer's reason to buy.  To drive those factors that drive sales you need to be looking at a lot of different activities within your firm.  Only then, can you turn your eyes towards costs and margins.
So, how do you drive the value of your company?
Alignment & Execution
Every company that wants to create better than average returns must have a clear direction (strategy) and values that will guide the decisions of everyone in the organization (alignment).  Only with clear alignment towards the company's goals and objectives can execution take place.
Execution is the day to day carrying out of the tasks that will push the organization to achieve its strategic objectives.  Once the entire team is aligned to the goals, each team member must know their responsibilities to make it happen.  This occurs through business and individual plans that go from yearly, to quarterly and in many execution driven companies to weekly plans.  In execution driven companies there is continuous feedback on the progress towards goals.  Roadblocks are acknowledged and removed or worked around.  Regardless, the focus remains on the companies goals.  The economy will change, your industry will change, but your company must stay focused
If your company can achieve this level of focus, it will create value much greater than your competitors.