Trust.  Customers demand it from the companies they shop, trade and work with.  Employees demand it from their employers.
Jobs, products and services will quickly become a commodity without trust.  Quickly traded to the next provider for a slightly lower price or flashier packaging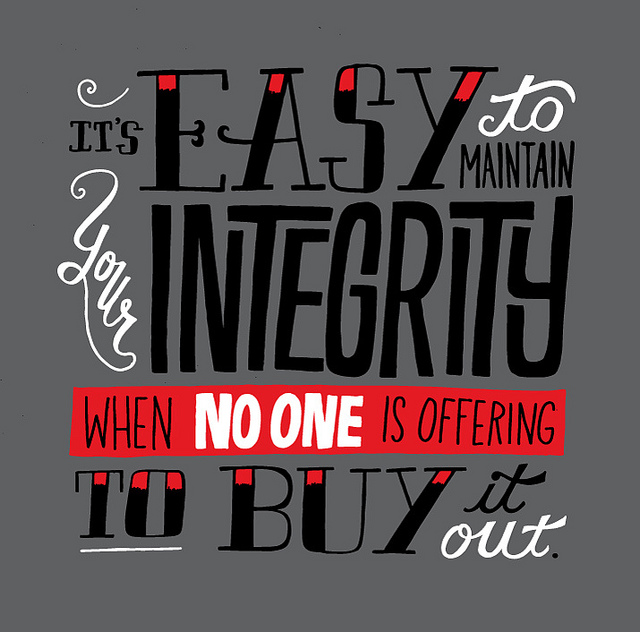 Trust can stop this rush to the lowest cost or highest salary.  Trust builds loyalty from customers and employees
How do you build trust?  Values (not just having them, but sticking to them!).
Everybody has values.  Just ask them.  They may not be able to tell you what they are off the top of their heads, but they certainly have values!  How could you dare to ask?  If you give them a little more time they will probably start to list some of the most common values like honesty, hard work, self-reliance or the one that everyone seems to use…integrity!  Dig a little deeper and you may find that your friend has a little more trouble easily defining what these values mean to them.  Generally you never get to know a person's true values until you know them really well.  Even then, we are often surprised by our friend's actions that seem so out of line with the values we thought they had
Companies are different.  Companies display their Mission, Vision and Values as wall art!  Right there for everyone to see when they walk by the front desk.  Most people in the organization don't know where these statements came from or what they mean.  For all they know, Moses himself must have brought them down from the mountain and hung them there!  Certainly they couldn't have been produced by any of the leaders in the company.  Nobody ever mentions them.  Of all the training sessions most office workers have been through, a thorough review of the company's core values is most likely not one of them
Regardless of what hangs on the wall, just like people, all companies have a purpose and core values.  Their purpose may be to make next quarter's numbers no matter what it takes or, my personal favorite, growth of x% by blank year…  People hear what the motto de jour is but rarely how it affects or is affecting the core values and reason for being of that company.  So what is the problem with that, you say?  Companies have got to set goals, they have to grow.  What do you want them to do?  Sit around and hold hands while chanting core values while their competitors beat them to a pulp?
No.  That is not what I'm suggesting.  But just like you chose your friends based on the values you assume they have and will seriously considering changing friends when they act differently, companies must act in line with their core values.  Their customers expect it, their workers and their investors do also.  If Merck, who has a core value of Improving Human Life, stops producing a drug that could improve millions of lives simply because they discovered the profit margins were not where the "markets" wanted them to be, the employees at Merck might start to really question the integrity of the corporation they work for.  A company that has lost the trust of its employees will have a very difficult time accomplishing the goals it has set for itself.
Ask yourself.  Do the values that drive your organization match the wall art?  Do you have mechanisms in your organization that hold employees accountable to those values?  In the words of Warren Buffett, eventually the tide will go out, and everyone will know what you are wearing!
Photo courtesy of http://www.flickr.com/photos/chrispiascik/